On-the-press automatic dry ice blasting system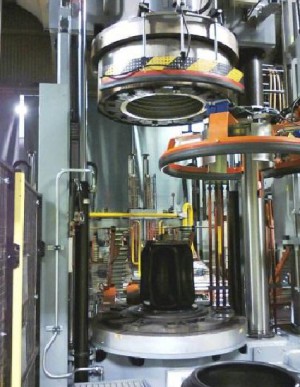 Temis AUTOMATO is an automatic tire mold cleaning device working directly on the press with dry ice blasting. The tire mold can be blasted while still hot in the press by a robot arm with 6 degrees of liberty. It is custom designed for each press model and can be programmed to perform specific cleaning cycles. This drastically reduces the "press down time due to cleaning" by 80% to 95%.
Dry ice blasting is a non-abrasive process and the optimum solution for the cleaning of complex patterns on tire molds: dry ice does not wear the molds nor open critical mold tolerances.
---
Advantages
Molds remain on the press, lower down time;
Cleans the undercuts: can handle complex patterns (i.e. winter tires);
Reduced need for FTE for cleaning operations;
Shorter cleaning cycle time, higher dry ice usage efficiency compared to manual systems;
 Mobile and flexible equipment with a high level of customization;
 Avoids rubber compounds dispersion in the working area;
Complies with local noise, health and safety rules.
Dry ice accessories
Dry ice pelletizers (micro pellets);
Dry ice pellets storage boxes;
Ultrasonic dry ice blasting nozzles (custom design and development);
Standard dry ice blasting nozzles (bi-tube);
Dry ice hoses;
All spare parts for dry ice blasting.